Ok, so last we left off, Mr. ST and I had decided (and I do mean he has an opinion and did help make the final choice) on the pails with the flowers, shells and grasses.
His Godmother had come to see our house and see how the wedding planning was going. I showed her my "binder bible" and all the pictures I had collected of inspiration and the direction the wedding theme was going. She is a super crafty and thrifty lady so I was exstatic when she said she would go on the hunt for the pails at yard and garage sales and online.
Fast forward to last Thursday. She called to see if we had made any progress and if I had found any more pails. She was not having a ton of luck finding ones that were meeting my particular description/size need/color preference/price point. I know, I know...there were a ton of requirements. She then asked why I felt I HAD to have flowers if I wasn't really crazy about them.
Um.......I dunno
. No one really asked me that before.
I thought about it and realized I was nervous that the tables would not look "full" and the room would look too large if there was not something substantial on the tables. His Godmother had done her homework. She started to give me websites she found with beach themed centerpieces, most without flowers.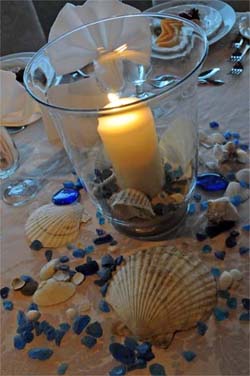 All of these ideas made me happy - happier than flowers ever had. And I love the idea of being able to add ambiance with the candle lighting. And I like all the texture of the other elements on the table. Plus, none of it will WILT by the end of the night! Woo Hoo! The COST to get these babies together was also significantly less than the flowers. Most could be done for around $500 total. For ALLLLL 20some odd tables we MAY end up having. Yeeeessssssssssssss.
Mr. ST. and I would need to have a big discussion to figure out where we stood with these new ideas.
Stay tuned for part 3 of Flower Failure....